From VST to .WAV, .dsnd and .dkit in one click

Export instruments or whole kits from your favorite drum VST to .dsnd and .dkit for the 2Box DrumIt Five, DrumIt Three and DrumIt Five MKII drum modules or to .WAV for the Alesis Strike, BeatBuddy, Pearl Mimic Pro, Roland TD-50, Roland TD-17, Yamaha DTX-Multi 12 or any module that can load .WAV samples.
Can be used without REAPER or a VST to batch convert from .WAV to .dsnd.
For Windows 11, 10, 8, 7, Vista or XP SP2/SP3.
SDSE Documentation
Installation
Download SDSE
Double-click on

SDSE-install.exe

and follow the installation steps,
SDSE can download and configure everything you need to get started.


Using SDSE
Open SDSE and REAPER. SDSE will configure REAPER for you.
Select a VST in the list, set up the kit you want to export.
Click

"Export"

in SDSE. When exporting is complete you will find the new sounds in "SDSE Sounds" on your desktop ("SDSE\Sounds" for a portable installation), sorted in subfolders based on instrument type and VST.
2box DrumIt: If you exported at least 3 instruments you will find a dkit file in the SDSE folder. You can copy the dsnd folders and dkit files directly on your DrumIt module.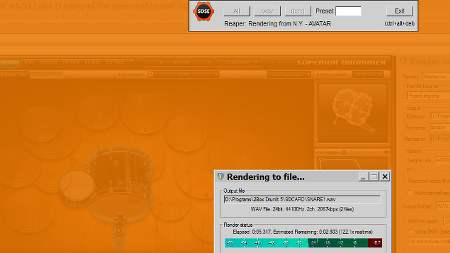 Supported Drum VST Instruments
one-click operation from VST to .WAV, .dsnd, .dkit
HiHat zones are adjusted when building a .dsnd
.WAV and .dsnd files are named using the instrument names
shrink filenames using user-defined search/replace
put width first in filenames, 14x6.5 instead of 6.5x14
add Library short names as filename suffix or prefix
add custom suffix to the files when exporting kit variations
option to disable exporting the Tom Rim and HiHat Bell
normalize .WAV files
.dsnd files can be sorted in subfolders
accessibility menus for Superior Drummer 2 (F10, F11)
Various features require REAPER.

Everything from the full version,
no support for HiHats and Cymbals

Built-in support for one kit per VST
export Superior Drummer 3 Core (Gretsch Round Badge)
export Superior Drummer 2 Avatar
export EZdrummer or EZdrummer Lite Pop/Rock EZX
export EZdrummer Lite Cocktail EZX
export BFD3

DW Mardi Gras

export BFD2 and BFD Eco

Ludwig Black Oyster

export

Steven Slate Drums 4 DW

export

Addictive Drums Sonor Designer

export

Abbey Road 50s, 60s, 70s, 80s, Vintage, Modern

default kits
export

Studio Drummcher

default kit
export Drumasonic 2 and

Drumasonic Luxury

default kit
export DrumMic'a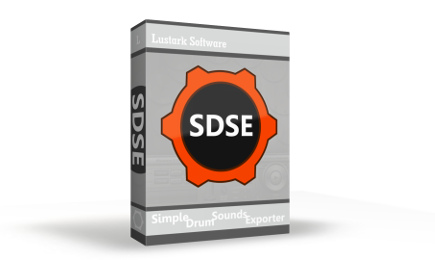 Nick from
Sneak Studios
playing a kit exported from
Addictive Drums.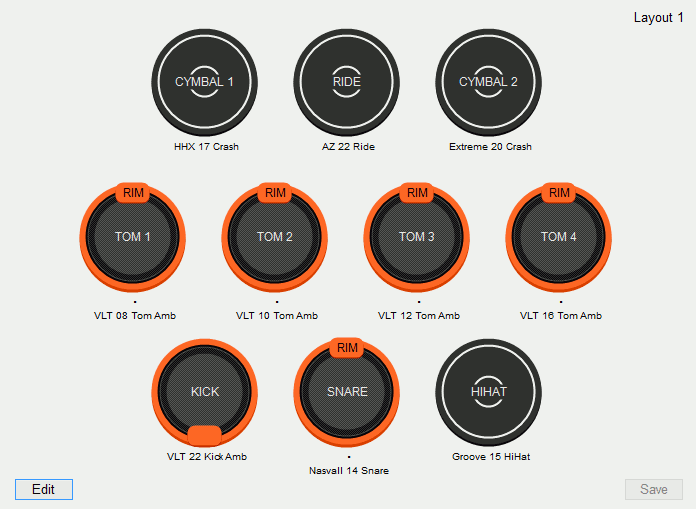 You can customize the kit layout used by SDSE if you have split your tom pads to add more cymbals or if you use any custom setup.
Use DKit Manager to set up your kit Layout.
When you export a kit for the DrumIt Five or DrumIt Three SDSE will use the current layout setting from DKit Manager to build a .dkit file that matches your own setup.
Lustark Software is not affiliated with or endorsed by
2Box, Alesis, Pearl, Roland, Yamaha, Cockos, FXpansion, Native Instruments, Toontrack, XLN Audio.